Grimsby Road
South Shields
Cotgrave
Our new store at Cotgrave successfully opened on 3rd June!!
Cotgrave will offer a full range of ambient, chilled, frozen lines as well as non-food items including cleaning and pet products!
In celebration of our new store opening, we will be donating £250 to the Cotgrave Community Kitchen. This charity is a not for profit organisation which has been and will continue to provide meals to the local community. Their aim when possible is to be able to have a social eating event each week in order to reduce social isolation within the local residents. In addition to making meals for local residents, every week they hold a mini market which contains a variety of food people may take for free or donate to the charity. We wish the team at Cotgrave Community Kitchen all the best for the future.
St James Mall
We're proud to announce our new store, St James Mall, successfully opened on 3rd June!!
We have relocated this store from our previous Hebburn store. We have added a wider range of goods including alcohol, additional cleaning, pet and health and beauty ranges.
As always, we're proud to be supporting a local charity to celebrate our new store opening. Your Voice Counts is a local charity which helps care and provide much needed support to those with learning disabilities, autistic people and individuals who are at risk of exclusion due to disability, illness or other challenges.
Blacon
Woodlands North Road
Lord Street
Wheatley
Marsh Lane
Fellgate
Cannock
Walsgrave Road
Oldbury
High Green
CELEBRATING OUR 300th STORE!! Our new store at High Green successfully opened on 18th February!!
High Green will offer a full range of ambient, chilled, frozen lines as well as non-food items including cleaning and pet products! In celebration of our new store, we will be donating £250 to Paces Sheffield, a local charity suggested by customers. This charity supports students at Paces School and adults through Paces Living which both care for individuals with Cerebral Palsy and Motor disorders. They offer life-changing skills through conductive education in an environment that is fun! They support families all over the UK!
Cherry Tree
Our new store at Cherry Tree successfully opened on 11th February! Cherry Tree offer a full range of ambient, chilled, frozen lines as well as non-food items including cleaning and pet products!
In celebration of our new store, we will be donating £250 to Elsie's Moon, a local charity suggested by customers. This small charity provide support for families when a pregnancy doesn't follow the plan. Offering specialised packs for early loss, those families who didn't expect to be in hospital as well as working with other charities who help with Bereavement Training; making sure memories are positive as well as offering a safe space for those who need it.
Bentilee
Our Bentilee store re-opened this morning at 8am. Shoppers hurried to the store to be in with a chance of getting one of the 100 free bag giveaway's which includes great vouchers and over £5's worth of our wonderful products!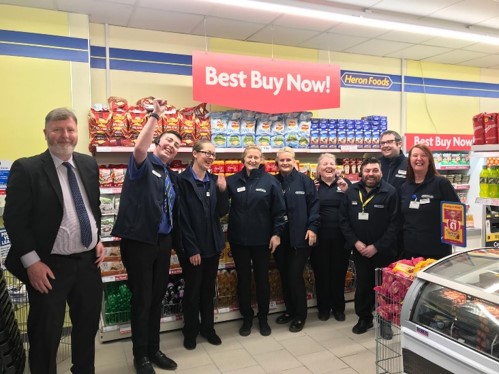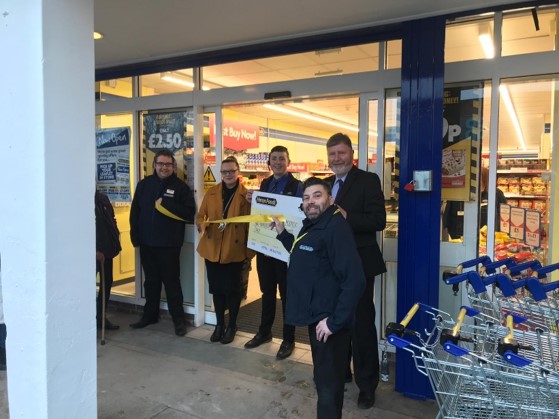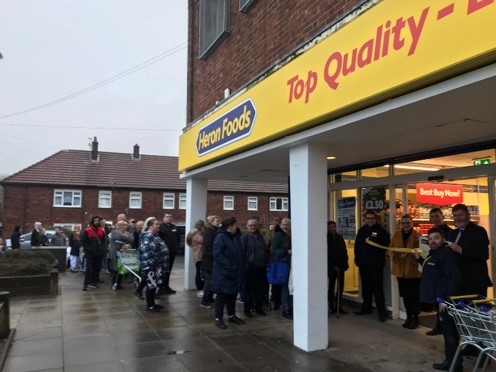 Leasowe New Store Opening
Our new store at Leasowe opened it's doors today! The store which is just under 3,000 sqft will welcome shoppers with a superb range of frozen including an open top feature freezer, extended ambient range and a good selection of alcohol.
To celebrate the new store we will be donating £250 to a local charity called Sundowns – this stands for Supporting Understanding Needs of Children with Downs. This charity supports over 70 families and it operating in the local area to the store. Our donation will go a long way!
Immans primary donation
We were fortunate enough to help out a local primary school with £500 worth of B&M vouchers which will help provide toys, plants and materials for their outdoor play area.
Fallings Park
Allerton
Gleadless Road
Gleadless Road opened this morning after its extension works, introducing alcohol, a fresh new light look in store, additional chilled space and a revitalised shop front. The difference is breath taking!
Sheffield Hospitals Charity are our official charity which we will support to celebrate the re-opening of our newly refurbished Gleadless Road! £250 will go a long way, especially in Jessop Wing Maternity, supporting patients and families, help bring in new equipment for all staff and allow research onto the cause, prevention and treatment of illnesses to save the lives of patients today and for the future generations. We thank them for all their hard work. 
Riddings
Blandford Street
Blakenall
Newton Hall
Pallion
Princes End
Oswaldtwistle
Giving a little back to local food bank
After reading about the plight of a local food bank reaching out for donations over the weekend, it's Heron Foods to the rescue with a donation of hundreds of food items!
Hulls Homeful Helpers are doing a fantastic job reaching out to elderly residents within the Hull community who are in need of basic living essentials. We've chosen to support the amazing work these volunteers are doing by donating a van full of essential food items.
In a time where the world finds itself in a state of great uncertainty, the key priority for us is to ensure that in this time of need, we continue to provide support for vulnerable individuals and families within their local communities.
Heron Foods Managing Director, Tony Dobbs, said:
Today, our team filled a van with staple items, in the hope that we can really help those in need who are currently either unable to leave their houses or are finding empty shelves in their local supermarkets.

We would like to take the opportunity to reassure our shoppers that we are continuing to work our absolute hardest to ensure the shelves are stocked and that basic essentials are available for everyone in all of the communities we serve. We would also like to thank our hard-working store staff and ask that you appreciate and respect them as they continue to serve their local community.
Slam dunk for Hull Hornets with donation for new kits
We're thrilled to be able to donate £500 to local amateur basketball team, the Hull Hornets, to assist them in purchasing new playing kits for their two junior teams.
The Hornets have been putting a sting in the tail for local basketball for nearly 30 years, with a rich history of playing success including winning the Hull League in 1996/7 and Hull Cup in 1994, 1996 and 1998.
The Hornet's West team coach, Andy England, says:
The donation will ensure we can keep on growing the number of players who compete in our two junior teams and it will help raise the profile of the Club in general.

As a club, the Hornets aim to promote increased fitness levels and skill development of all its members, in a safe and friendly environment that is open to all. We're committed to advancing basketball at a local level to help strengthen participation.
Good luck from everyone at Heron Foods – we hoop you have a great season!
Cottingham Rangers
We have today announced a three-year front-of-shirt sponsorship deal with our local football team, The Cottingham Rangers Football Club, which is the biggest sponsorship deal in the club's 46-year history.
As main sponsor to the Club's 28 teams and 450 players, our famous logo will now take pride of place on the front of the Club's iconic yellow and blue striped kits through to the end of the 2021/22 campaign.
Heron Foods managing director, Tony Dobbs said:
We're delighted to make this donation and support the Club. We strongly believe in the importance of sport within the local community, so we're thrilled to be able to give back in this way. We would like to wish everyone connected with Cottingham Rangers Football Club all the best for the coming seasons.
Cottingham Rangers Football Club chairman, Stephen Liddell, said:
Our partnership with Heron Foods ensures we now have a guaranteed income over the next three years ensuring we can continue to build and deliver community football to children in Cottingham and surrounding districts of Hull. On behalf of everyone playing, watching, managing and coaching we'd like to give our thanks to Heron Foods, your support is greatly appreciated.
Fish & Chips
Sheppards Pie
Lasagne